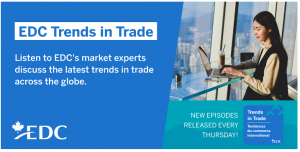 EDC Trends in Trade
Accelerate your global growth with valuable market insights by tuning into Export Development Canada's new audio series. Each week, they'll share the latest news and international trends in key industries, including advanced manufacturing, agri-food, digital technology, automotive, and green resources of the future.
Each episode highlights specific opportunities—and challenges—of doing business in these markets and outline key facts you need to know to succeed in your growth journey.
Register now for EDC Trends in Trade and start learning more about your markets of interest. With offices around the world, we can provide expert intel and connections to help you make informed business decisions and grow with confidence.
Register here: https://go.edc.ca/ex05n9
The Orange Economy, backing Colombian innovators.
Also known as the Creative Economy is the bringing together of sectors of the economy "whose main purpose is the production or reproduction, promotion, dissemination and/or the marketing of goods, services and activities that have cultural, artistic or patrimonial content" according to UNESCO. 
There is enormous potential for the growth and consolidation of Colombia's creative services. In Bogotá alone, 92% of the cultural sector's industries come together and new projects continue to be founded throughout the country. This represents a significant opportunity for economic development and investment from companies worldwide.
PDAC Mining Opportunities in Colombia 2021
The Canada Colombia Chamber of Investment and Trade hosted an exciting virtual event "PDAC - Mining Opportunities in Colombia 2021". This by-invitation-only event took place on March 3th, 2021 from 9am to 11:00am EST.
Our keynote speakers, Colombian Minister of Mines and Energy, Mr. Diego Mesa Puyo and the President of the National Mining Agency, Mr. Juan Manuel Duran Prieto, provided a high-level briefing of the current state of the sector.
To complement the Government presentations, a panel of experts provided their views on this sector's dynamics and shed light on what they believe are the most important opportunities.
Innovation Canada, backing Canadian innovators.
From funding to expert advice to driving new collaborations, Innovation Canada's flagship programs and services are designed to help businesses innovate, create jobs and grow Canada's economy through programs like the Innovative Superclusters Initiative. It's about strengthening Canada's most promising clusters, where private sector, academic institutions, not-for-profits, and others come together to energize economies and create resilient, well-paying jobs. And the Strategic Innovation Fund which invests in innovative businesses—helping them scale-up, research, develop and commercialize cutting-edge ideas and collaborate in new ways.
The Path of the Anaconda (El sendero de la anaconda). Film.  
Almost 50 years after shaking hands for the very first time, the writer and explorer Wade Davis, Colombian - Canadian author of the book The River, and anthropologist Martín Von Hildebrand, who has devoted his life to protecting the Amazon, meet again to carry out a trip up the rivers and paths that were traveled earlier by the legendary botanist Richard Evans Schultes. "The Path of the Anaconda" narrates the memories and reflections about the jungle, but also the final effort to save the northern Amazon forest from destruction, establishing an ecological corridor that connects the Andes Mountains with the Atlantic Ocean throughout eight countries.
Colombia is becoming a Digital Technology powerhouse.
Over the past 10 years, Colombia has positioned itself as a digital technology powerhouse. Its strong stable economy; highly developed IT infrastructure; talented and educated workforce and low-cost operations, are just some of the reasons that Colombia is attracting increasing global attention. 
Colombia has the third largest number of universities in Latin America (126), there are on average 49,000 graduates every year in Management and Engineering and nine thousand graduates per year in Computer-related careers.